(Banner Photo Credit: Jeff Rennicke)
PD Outliers is an interview series in which outstanding PwPs talk about and share the methods they use to succeed with Parkinson's Disease.


In today's episode we are going to hear from expert explorer and biking enthusiast Nan Little. She's our first Outlier without early onset Parkinson's, and in the ten years since being diagnosed at age 62, Nan has become well known around the Parkinson's community for her bold expeditions across the world.
Before she was diagnosed, however, Nan never considered herself an athlete, nor had she attempted any large-scale expedition. It was only after she was diagnosed, and discovered that she could mitigate her symptoms through cycling, that she began to train for upcoming adventures.
Some of her most notable feats include biking across the state of Iowa six times, hiking eight days through the Himalayas to the Annapurna Base Camp in Nepal, and climbing to the peak of the largest mountain in Africa, Mt. Kilimanjaro. She's also completed dozens of fly fishing, rafting, and camping trips across the US and Canada, traveling to places like Yellowstone National Park, the Grand Canyon, and the Broken Islands of British Columbia.
When she's not out in the wild, Nan spends her time encouraging other people with Parkinsons to lead active lifestyles that work for them, and offering them practical steps on how to do so. She's also an organizer for Pedaling for Parkinson's, a member of the Northwest Parkinson's Foundation, and the author of the book If I Can Climb Mount Kilimanjaro, Why Can't I Brush MY Teeth: Courage, Tenacity, and Love Meet Parkinson's Disease.

In the conversation that follows we talk about how she uses forced paced cycling to reduce her symptoms, how she manages her PD on multi-day excursions, how she benefits from the calming effects of nature, and much more. Enjoy!
SECTION 1 - BIKING TO REDUCE SYMPTOMS
Section Notes:
4:23 What is Pedaling for Parkinson's?
4:48 The optimal bike exercise routine to reduce Parkinson's symptoms
8:56 The moment she realized her symptoms had disappeared due to biking
10:53 How Nan maintains her biking routine even when the weather is bad
11:40 Nan's medication strategy, what she eats
Section 2: Strategies For Going On Large Trips with Parkinson's Disease
Section Notes:
13:52 Three maxims Nan's believes helps PwPs take control of their lives
17:10 Nan's advice for PwPs who have not taken trips into nature, but would like to
19:23 What Nan packs to manage her Parkinson's on large trips
22:38 Mental strategies for pushing through difficult parts of trips
24:28 The most important principle Nan and her husband follow to make sure Parkinson's does not put too much strain on their relationship
26:54 The effect that nature has on Nan and Pam's PD
Section 3: Managing Sleep Disorders,"Non-Support Group" Support Groups & How To Adjust Your Trips As You Age
Section Notes:
30:50 A few wild stories of Nan's hyper-active night-time limbs
31:42 How Nan got tested for REM Sleep Disorder in the hospital
33:04 Longer-term benefits Nan has experienced as a result of Dance for PD
34:18 Where Nan finds support groups outside of official "support groups"
36:52 Would Nan have done anything differently were she to be diagnosed again?
39:19 How PwPs can balance their desire for adventure with the inevitable effects of aging
Interview Follow-up:
Nan's List of Challenges
Before she climbed Mount Kilimanjaro, hiked to Machu Picchu or trekked through the Himalayas, Nan had to build herself up by completing more modest physical feats.
When we finished our interview I asked Nan to supply me with a list of challenges describing some of these smaller steps, to give PwPs reading this the option of testing out some of her methods.
She sent me back a fantastic list split into three categories of ascending difficulty--crawl, walk, and run--that is laid out below. She also sent me a small preface to the list, in which she emphasized that while everyone with Parkinson's should look to test their limits, there is no one right way to do so. People have different living conditions, personalities, and strains of PD, and these all affect what types of challenges a given person responds to. More succinctly, Nan says that the most important thing for PwPs to do is to "own the goals they set."
So in reading the following list (which comes after the pictures), look for challenges that appeal to and energize you. You don't have to follow in her exact footsteps, but the ideas below can help you better define the adventures that interest you.
A Few Pictures from Nan's Adventures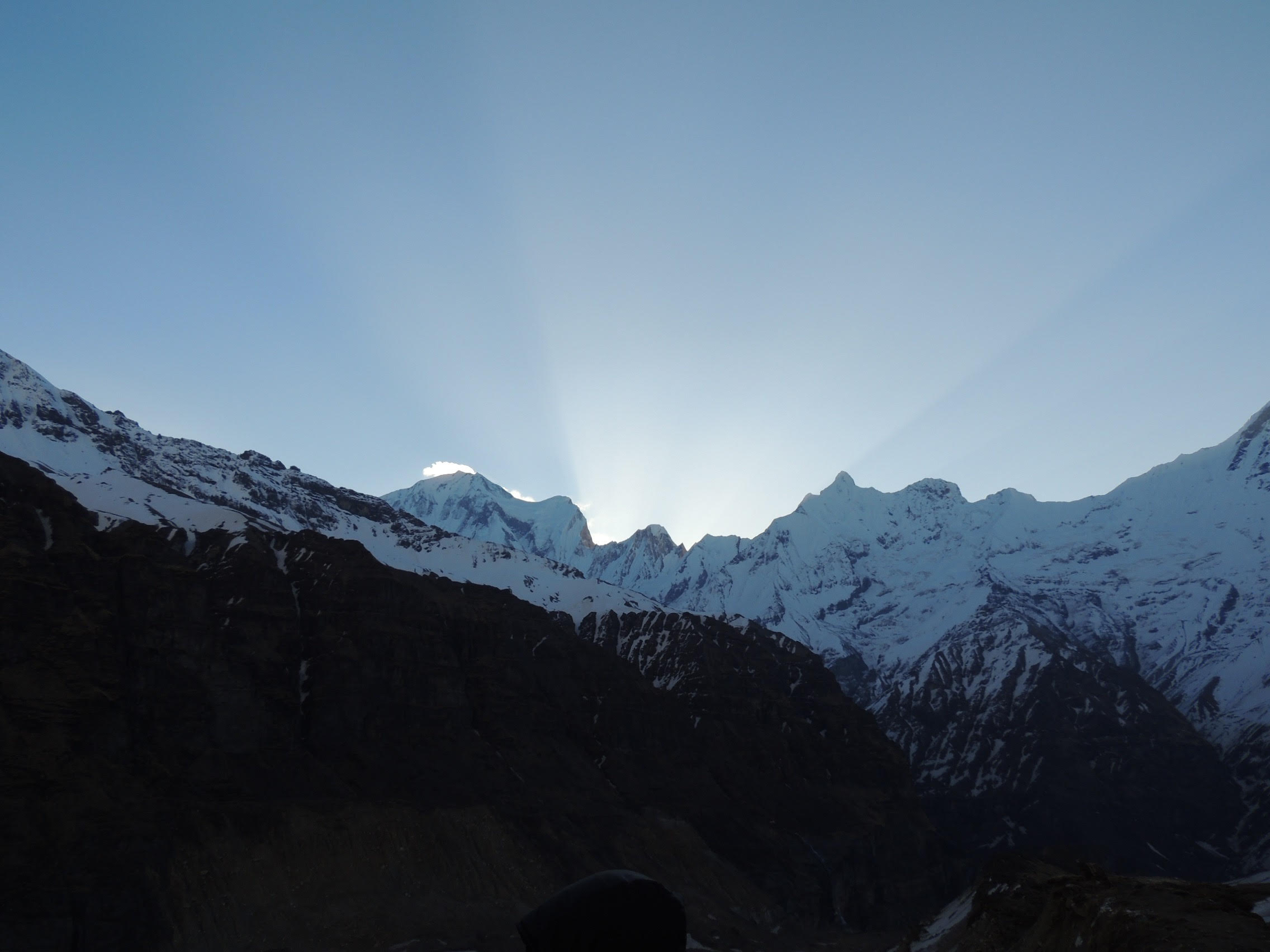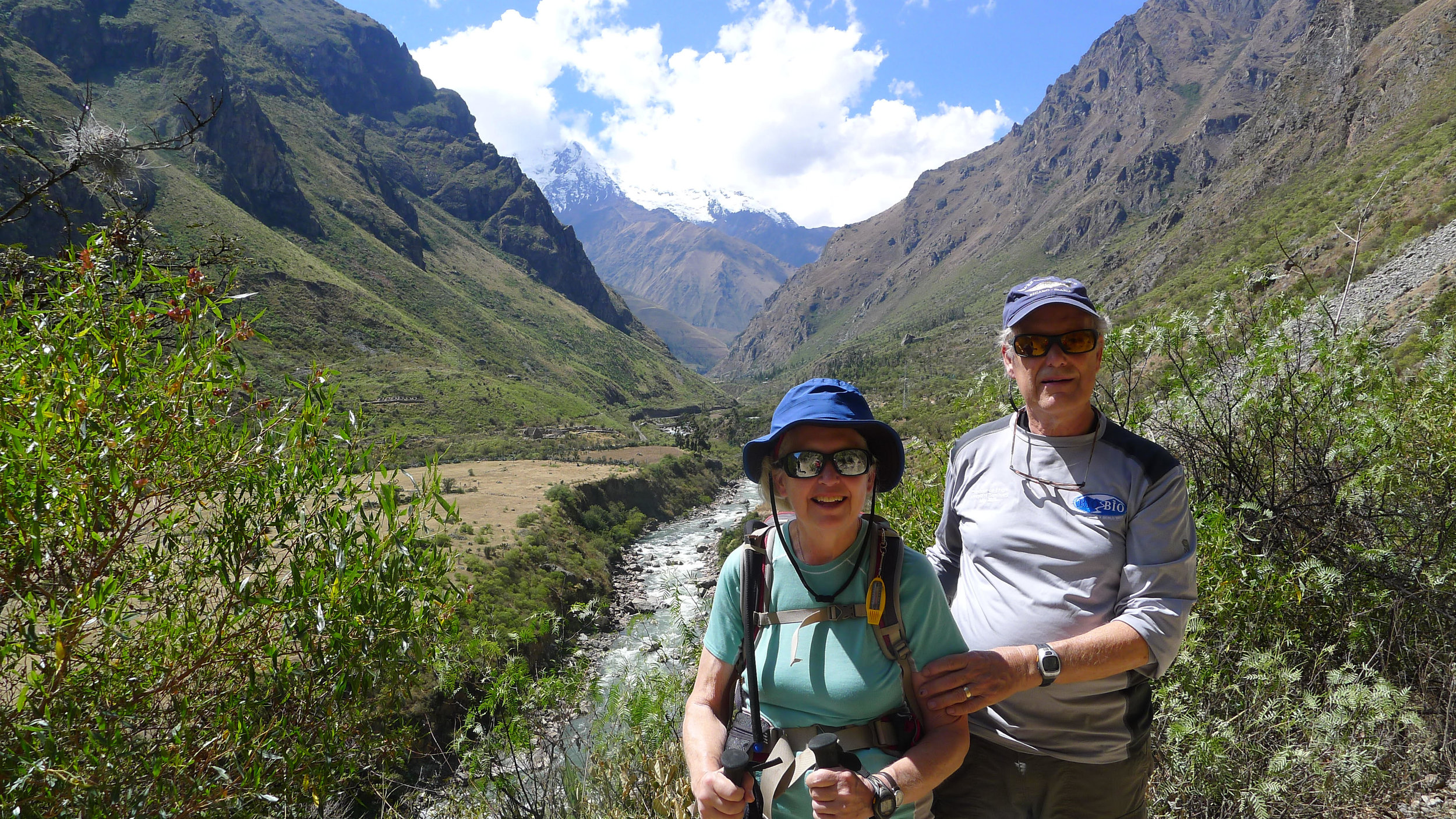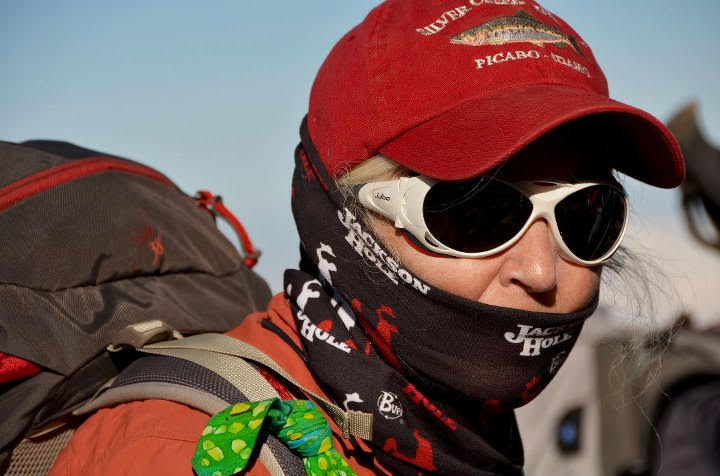 Nan's List of Challenges:
Crawl: Simpler challenges to begin with for people not as able
Bike training rides, working up to about 20 miles each

When I first began to bike, I could barely walk around my own block. I started by trying to do 15 miles every other day in a week. Every time I felt I had reached a tipping point, I added more. In just a month my PD symptoms disappeared (and stayed away for a while).

These days I bike twenty-miles three to six days a week almost year round. Each ride takes me about 1.5 hours and I take the same route each time. These rides are the bread and butter of my exercise routine. Every time I finish a session, I feel that I have accomplished a goal and that my physical batteries have been recharged.


Dance for PD class

The physical strain of the class is low, and I love that even though we don't talk about PD, the class is a support group as much as a dance class. My body and spirit always feel better after class. Everything about the class is positive. I do this once a week. Dance for PD classes are also free.


Fly fishing, hiking and wading 6 weeks per year

Immersing myself in nature has a profound calming effect on my PD. I seldom feel as if I have the disease when I am in the wild concentrating on fly fishing, or wading through a stream.

If you want to take a small hike, but you are not confident in your ability, you can train by climbing stairs. But get out into nature as soon as you believe you can. It's more fun, and in the best circumstances it can be a spiritual experience.
Walk: Mid-range to difficult challenges. These trips will require some preparation and a solid level of fitness
Scenic 40-70 mile bike rides

Once you have built up your biking stamina to biking 20 miles every other day, you can begin to look for longer more scenic rides to go on. After I started biking, it took me a little over a month to be able to try longer rides, but that timetable is different for every PwP. Always do these larger rides with someone. Longer rides like these allow me to enjoy the beauty of the ride and power of my body, in a way the shorter rides I take do not. Below I've listed a couple of my favorite places to bike if you happen to be in the Northwest.

Biking through Vancouver, specifically around Stanley Park or the University of British Columbia

Biking from West Yellowstone to Old Faithful and back (62 miles)

Side Note: If you have the means, make your way to Yellowstone at some point. Any activity there feels perfect for me: biking, hiking, fishing, sitting stream-side watching wildlife, enjoying the colors of flowers and sky. In nature you feel alone and not alone at once. PD has no place in Yellowstone.


Larger hikes up local mountains

Once you build up your confidence going up stairs and walking trails, try looking for a larger local mountain to climb. It's a good challenge and you'll be rewarded with a view. Pick trails that you will most likely complete.

Mt. Rainier in Washington has hundreds of beautiful one day hikes.

Burgess Shale (17 miles) in British Columbia is another good hike in the Northwest. I did the hike in one day in 2014. I wasn't sure if I could do it, and I wanted to see if I could still push myself.


Kayaking Broken Islands, British Columbia, 1 day, 2014

I went with the guide in a double kayak, which eliminated anxiety completely. At ease, I was able to take in sights and sounds, be fully immersed in the experience.


Raft trip through Grand Canyon, 14 days, 2017

My major challenge on this trip was that my knee dislocated over and over, seven times in one day, limiting my ability to do all the activities. The heat must not be taken lightly. The place encouraged me to connect with the fundamental self and universe.

Run: Epic adventures for stubborn and defiant PwPs with insatiable appetites for adventure
RAGBRAI (bike ride across Iowa, about 450 miles), 1 week (I did this 6 times from 2009-2016)

RAGBRAI takes preparation but is worth every stroke of the pedal. This Burning Man on wheels provides physical and mental challenges, a place to be alone among thousands of riders, entertainment, too much food, and friendships that last a lifetime. Dr. Jay Alberts, the man who first convinced me to try it, told me that if I could bike 30 miles three days in a row, I could make it across Iowa. Train to meet this goal.


Annapurna Base Camp Nepal, 2012

This is the most beautiful place I have ever been, and the first among big trip recommendations. It poses challenges that can be met, but most importantly, it wedded the spiritual and temporal worlds in the core of my being. Trust and let go. Climb lots and lots of steps to prepare.


Inca Trail to Machu Picchu, 2013

This fascinating cultural adventure is most enjoyable if you have climbed thousands of steps (with loaded pack) and studied up on the history and cultures of the area in preparation.


Mt. Kilimanjaro, Africa, 7 days, 19,340' elevation, 2011

This was hardest trip of all. I would not recommend it due to the strain and unknowable risks of the journey. I am thankful I took this trip though because it gave me a platform and a voice in the PD world, but the physical and mental toll was heavy. Do it if you must, but understand the risks. Train hard by climbing thousands of steps with at least a 25 lb. pack.
A small final thought is that I don't have a list of trips to take. Opportunities arise and I take them, knowing they might not come again.
To read more about the PD Outliers series or discover other interviews click here.

To leave a comment, follow these three steps: 1) Write your comment in the text box below, and click the "Post Comment" button 2) A black screen will appear. Write your name or "Anonymous" in the first box, depending on your preference 3) Click the gray "Comment As Guest" button. Voila! Thanks for your thoughts!

For a detailed visual guide to posting a comment visit PD Movement Lab Comment Directions